Women's Book Club Meeting
Saturday, September 25, 9:00 AM
We'll discuss Where the Wind Leads by Vinh Chung. No need to sign up.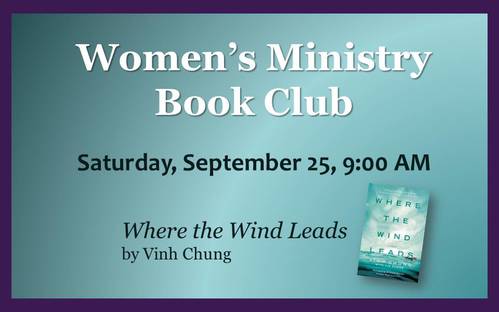 Sunday Evenings, October 3, 10, 17, & 24
This class is for anyone interested in learning more about Kirkmont or in formally joining the church. The class meets in Fellowship Hall from 5:30-7:30 PM. Dinner and childcare provided.
Tuesday, October 5, 9:00 AM
We'll go to Lancaster, Ohio. This county seat has historic houses including the Decorative Arts Center than can be viewed for a small fee, and the Ohio Glass Museum. We've rented a van Michael Becker will drive. The cost will be lunch (at Downtown Bistro), entrance to the glass blowing demonstration if attended, and entrance fees to museums. For the glass blowing demonstration and Sherman House Museum, we need to schedule tours. Sign up in the narthex so reservations can be made at various places.